The Listening Journey for Children features stories from Tomatis consultants around the world, celebrating how the Tomatis Method has helped to change children's and parents' lives and giving hope to people who think that they have run out of options.
In The Listening Journey for Children parents, teachers and professionals will get a behind-the-scenes look at how the Tomatis® Method auditory training program is changing the lives of thousands of children around the world every year.
You will discover how to dramatically improve listening, learning and communication in children by changing the way the ear works with its connections to the brain and the body — particularly in children living with autism, auditory processing disorder, ADD, ADHD, learning difficulties, Rett syndrome and those with global developmental and speech delays.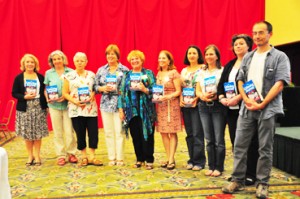 This book is a collection of stories about children who have benefited from the Tomatis® Method, initially developed in France about 60 years ago and now available in 40 countries. The authors are all experienced professionals such as psychologists, occupational therapists, psychotherapists, audiologists and educators who are using this auditory training program to allow children to reach their potential, and to help parents "to see the light at the end of the tunnel."
"This book is a lesson of hope for parents and educators."
Most Searched Terms: The Listening Journey for Children, Parents of ADHD kids, Learning Difficulties, help for Auditory Processing Disorder, Autistic Kids, Tomatis therapists in Sydney, Australia, France, USA, Philippines, Columbia, Panama, South Africa, alternative treatments for speech delay, drug-free treatments for ADD-ADHD, sound-based therapy, help for dyspraxia and dyslexia.